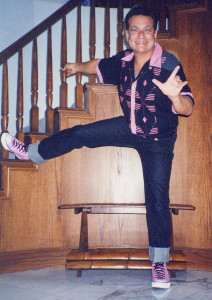 Before starting Rollin' Rock magazine, and then Rollin' Rock Records, I , Rockin' Ronny Weiser, founded the Hollywood Rock'n'Roll Fan Club to promote the American Way Of Life, i.e., Rock'n'Roll, Rhythm & Blues,
Rockabilly, Doo Wop, Hillbilly, Western Bop, Swing, Jump Blues, Cat Music, Cajun, Western Swing, etc.
And when I say "Rock'n'Roll",  I mean REAL Rock'n'Roll, as exemplified in the 1950's by Little Richard, Elvis Presley, La Vern Baker, Fats Domino, Gene Vincent, Jerry Lee Lewis, Buddy Holly, Chuck Berry, Carl Perkins, Chuck Willis, Wanda Jackson, Eddie Cochran, and many more.
"Rollin' Rock" magazine was started in 1970 as a spoof of "Rolling Stone" which promoted millionaire "hippie" influenced drugged-out groups disguised as "underground".  In truth they were–and still are–the "establishment".   We are the real "underground"!
The magazine also celebrated the whole Rock'n'Roll Lifestyle, i.e.,  Pink Cadillacs,  two-tone Chevys, shark-teeth grill Buicks, cowboy-cut Western  blue jeans, hot rods, rodeos, pinups, diners,  drag racing, Tex Avery and Tom & Jerry  cartoons, Western Wear, Cool Cat threads, Western movies,  juke boxes, barbecues, pinball machines, cheeseburgers, ice cream sodas, root beer floats, and many more aspects of the American Way Of Life, and especially support for Americanism, Individual Rights, Personal Freedom & Rugged Individualism, with vigorous opposition to any form of totalitarian collectivism, whether it'd be communism, fascism, racism, socialism, National Socialism-Nazism, or anti-Semitism.
In the 1950's the racists and segregationists wanted to destroy Rock'n'Roll which they considered as an "evil race mixing music".   Indeed Rock'n'Roll was a major force in shattering the barriers of segregation and bigotry.  God Bless Alan Freed!!
In Europe the Socialists and the Communists viciously attacked Rock'n'Roll and blue jeans, which they regarded as malevolent influences of American Capitalism. Even though these types are still around, Rock'n'Roll  and Rockabilly in some ways are today more vibrant than ever!
In 1971 the Rollin' Rock Records label was formed as a logical complement to Rollin' Rock magazine.
Rollin' Rock Records was the first record company since the 1950's to record a standup slappin' bass in Rock'n'Roll music.
In 1974 I recorded Ray Campi with the iconic song "Rockabilly Rebel" (from the album by the same title) to glorify the Real Rock music we loved so much.
This album was also recently re-released by Part Records.  Part-CD 613.004.
RAY CAMPI & his ROLLIN' ROCK REBELS (later renamed Rockabilly Rebels) were the first Rock'n'Roll band since the 1950's to both record and perform on stage with a Standup Slappin' Bass.
According to the New Musical Express The Rollin' Rock Tour of England in 1977– with RAY CAMPI & HIS ROCKABILLY REBELS and MAC CURTIS– made a tremendous impression, spawning a whole new generation of teenagers who called themselves "Rockabilly Rebels" and "Hep Cats", and who eagerly bought each new Rollin' Rock record imported from the USA.
Such a success was achieved that at one point in England Rollin' Rock Records had 7 hits out of 20 on the Rock'n'Roll charts, including the number one, two and four.
The label grew to such a cult level that across England you could read graffitis:" Rollin' Rock Rules!", "Forever Rockabilly Rebels"!
A song was written by Bobby Clifford (aka Al Roberts Jr.) of EMI Records, titled "Rollin' Rock Rock", which pays tribute by name to Rollin' Rock artists Ray Campi, Mac Curtis, Charlie Feathers, and to Yours Truly! It was released on a Sonet LP, titled (ironically): "The Best Of British Rockabilly" !!
In Finland Rollin' Rock crossed over to the Pop field with Rollin' Rock artists such as RAY CAMPI, MAC CURTIS, JOHNNY LEGEND, JIMMIE LEE MASLON AND JACKIE LEE COCHRAN competing on the charts with Elvis, John Travolta, John Lennon, Abba, Donna Summers, etc.  The average age of our Finnish fans was between eight and fourteen years old!!!
In Japan Rollin' Rock aficionados formed a cool Western Swing / Rockabilly band which twice already was featured at Viva Las Vegas. The name of the band is, yes, you guessed it, THE ROLLIN' ROCKS!
In 2003  QUENTIN TARANTINO used a Rollin' Rock song (recorded in 1974) "That Certain Female" by the great CHARLIE FEATHERS in his hit movie "KILL BILL 1".
Ten years later in 2013 the song was also used in a VISA/NFL commercial. A timeless classic rockabilly gem which is just as exciting today as it was 40 years ago when first recorded!
Every year the day before the VIVA LAS VEGAS Weekender we hold our International Rockabilly Rebels Meet & Greet here at my house, Rancho Ronny. Usually over 200 Hep Cats & Chicks show up to listen to a dozen singers/bands and/or just  to relax. The Meet & Greet became so popular that English singer R. Razor wrote a song about it, "Rockin' With Ronnie":
"We flew in to Sin City
Asked the cops is this the way
To 2460 Casey
Where The Rockin' Bands Do Play?
We were Rockin' with Ronnie,
Yeah…Rockin' with Ronnie ………."
This song appeared in a CD with Elvis, Little Richard, The Coasters, Chuck Berry, Duane Eddy, Fats Domino and Jerry Lee Lewis!! Wow, what a great honor to have a tribute song for me to be included with such company!!
If you wanna read more about the above, check out some of my 70 Columns at the Rockabilly Hall Of Fame:
www.rockabillyhall.com/COLRockRon.html
****************************************************
ROLLIN' ROCK RECORDS has had the honor to record such Legends as: Gene Vincent, Ray Campi & His Rockabilly Rebels, Charlie Feathers, Mac Curtis, Alvis Wayne, Johnny Carroll, Sid King, Bill Haley's Original Comets, Chuck Higgins, Narvel Felts, Johnny Legend, Jimmie Lee Maslon, Mack Stevens, Jackie Lee Cochran, Tony Conn, Colonel Jim Silvers, Screamin' Scott Simon, Colin Winski,  Jerry Sikorski,  The Blasters, Ravenna & The Magnetics, Rip Masters, Ronnie Mack, Kevin Fennell,  Cort Murray, Ezra Charles, Richard Berry, Merle Travis, Louie Lymon, Freddie Blassie, Mae West, Sarah Harris, Chuck E.Weiss, Nikki Corvette, Billy Zoom, Don Sawyer,  John Blair,  Jussi, etc., and also upcoming rockers such as Rip Carson, Johnny & The Blades, Dragstrip77, The Shuffle-Aires, The Chop Tops, The Starlight Drifters, The Sin City Surfers, etc.
****************************************************